The East Bay's brimming with craft, and home-made gifts can be a hit during the holidays. Don't have time to break out the sewing machine and hot glue gun? Never fear.
These local businesses have plenty of products available so your holiday gifts can have all of the special touches of hand-made, without all the clean-up or creative angst! Bonus heartwarming for being made from reused materials and for supporting the local economy from supply through purchase.
Check out their goods at our store, or pick them up from East Bay independent stores listed below. (Click on a business name to go directly to their online store.) Also keep an eye out for these folks at holiday markets, like the KPFA Crafts Fair, the December First Friday in Oakland, The Grease Diner's Craft Fair, The Crucible's Holiday Gifty event, or the December Jack of All Trades Market.
Of course, for the DIYers, don't forget that we've got 3 acres of reusable materials to fulfill your crafty callings…
Purchase with purpose! And happy holidays!
Featured businesses
The Anvil and Hammer, Oakland (2009)
Custom orders and other items available.
Showcased gifts: Money clips, $40; Copper chain necklaces, $80 & up
Buy locally at: The Grease Diner, 6604 San Pablo Ave, Oakland
The Anvil and Hammer produces a variety of handmade jewelry for men and women, as well as unique home décor and sculpture. Every stage of production is in-house, and every item is hand-textured and fused, almost exclusively from reincarnated scrap metal.
///
Artichoke Jalapeno Design, Berkeley (2012)
Showcased gifts: Drink coasters, set of 4 in burlap pouch, $17
Artichoke Jalapeno is a design-build team that recently added these cool drink coasters to their repertoire of hospitality-themed products. Made from scrap 4×4 lumber, they're hand-stamped, sealed with polyurethane, and bundled up in a burlap pouch. (The burlap was also reclaimed from wedding table runners.)
///
Bryan Appleton Designs, Oakland (2006)

Custom orders and other items available.
Showcased gifts: Wood and metal tables, $300 & up; Wall-mounted coat rack/shelf, $250 & up
Buy locally at: Bryan Appleton Designs, 700 26th St, Oakland
Bryan Appleton Designs makes all manner of furniture and home décor out of refinished wood, salvaged architectural elements, and interesting bits found at flea markets and stores like Urban Ore. Bryan graciously agreed to let us use his items to display everything on. I admit, they got a little buried under the abundant goodness of the other featured businesses, so I wanted to make sure to give him extra props.
///
February Stars Inc., Berkeley (2010)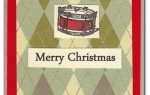 Showcased gifts: Greeting cards, $3.99
Buy locally at: Berkeley Bowl West, 920 Heinz Ave, Berkeley; Builder's Booksource, 1817 4th St, Berkeley; Greetings Giftshop on Solano Ave, Berkeley
February Stars Inc. creates handmade cards and stationery products, printed on recycled paper and utilizing reclaimed materials.  Any unused or leftover materials are donated to local schools.  All products are assembled by hand, and include letterpress, fabrics, metals, wood, old maps, paint swatches, snail shell inlay veneer, antique Italian book pages or anything else that inspires design.
///
field day, Oakland (2005)
Showcased gifts: Child's dress, $43; Women's dresses, $120; Men's hoodie, $120
Buy locally at: field day and friends, 329 19th St, Oakland
field day is an indie ready-to-wear clothing line that utilizes sustainable materials such as reclaimed vintage bed sheets and organic cotton grown and milled in California. They recently open a boutique store in downtown Oakland called field day & friends, featuring the complete field day line, local guest artists and designers, and other fine hand made goods. (The store's interior was built-out using all recycled and rescued materials. You could say that reuse is built into the fabric of field day.)
///
The Grease Diner, Oakland (2013)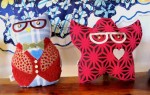 Other items available.
Showcased gifts: Elephant print, $10; Silk-screen "Oakland" & "Tenderloin" patches, $5; Owl stuffed animal, $30
Buy locally at: The Grease Diner, 6604 San Pablo Ave, Oakland
The Grease Diner is a newly opened art gallery, gift shop, screen printing studio, recording studio, art hostel, and donation center. They screen print many of their items on reclaimed paper and fabric, and host an open printing studio on Tuesday evenings where you can, too. Reuse gifts can be found throughout The Grease Diner's storefront, including stuffed animals and dolls, upcycled clothing, and postcards.
///
HaloBender, Oakland (2012)
Showcased gifts: Card wallet, $25; Classic wallet, $40; Clip wallet, $40
Minimalist eco-friendly leather accessories made by HaloBender's proprietor, Angel Cantu. These wallets are made from discarded leather swatches and lined with scrap nylon from a factory across the Bay. "Saving land fills one quality product at a time." And looking mighty classy, too boot.
///
Reskü, Oakland (2012)
Showcased gifts: "Code 1" totebag, $120; "Code 3" iPad sleeve, $89; "Engine" wristlet, $40
Buy locally at: Loakal, 560 2nd St, Oakland
Reskü gear, a product line of Ari Creations (short for Art Reach International), re-purposes rescue gear, such as used firefighter turnouts and hose, into fashionable, one of a kind bags and accessories. A portion of each sale goes to provide art supplies for those in need of a conduit for their creativity. Current donations suport the art program at the East Oakland Boxing Association. Handcrafted locally from materials that have already passed the harshest tests, Reskü gear is durable enough to inspire future generations.
///
Tireless Hearts, Walnut Creek (2008)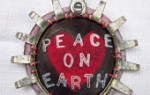 Custom orders and other items available.
Showcased gifts: "Key Buddy" keychains, $10; Tireless Heart charms, $25 – $48; Bobby pins, $15/pr; Blossoms & Fortune Cookie jewelry, $22 – $30; Metal earrings, $29 – $34; Holiday ornaments, $20 – $25; "Strong Heart" bracelet, $10 ($2 donated to women's heart health)
Buy locally at: Who's Your Betty, 5517 College Ave, Oakland
One-of-a-kind, hand-made charms and trinkets crafted from the flotsam and jetsam of a busy urban bikeshop. "Tireless hearts are about persistence. About the courage required to keep your equilibrium through the rough and tumble of life. They are about the storms that blow a person off course, and the healing and re-directing power that allows one to get back on track. They are symbols of survival, of rebirth, of hope. They are about being in life for the long haul." And they're beautiful, as well.
///
Yes & Yes Designs, Oakland (2008)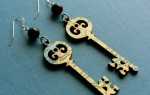 Custom orders and other items available.
Showcased gifts: Earrings, $35/pr; "California" necklace, $40
Buy locally at: Oaklandish, 1444 Broadway, Oakland; Loakal, 560 2nd St, Oakland; Lava 9, 1797 Solano Ave, Berkeley
Yes & Yes Designs combs the East Bay for visually interesting but unwanted books – outdated textbooks, condensed fiction, falling-apart kid's books – and turns them into "wearable art". Each unique piece is designed, laser cut, and assembled in Oakland.